Dacon China is a manufacturer of wheat/barley grass powder,royal jelly,silica gel desiccant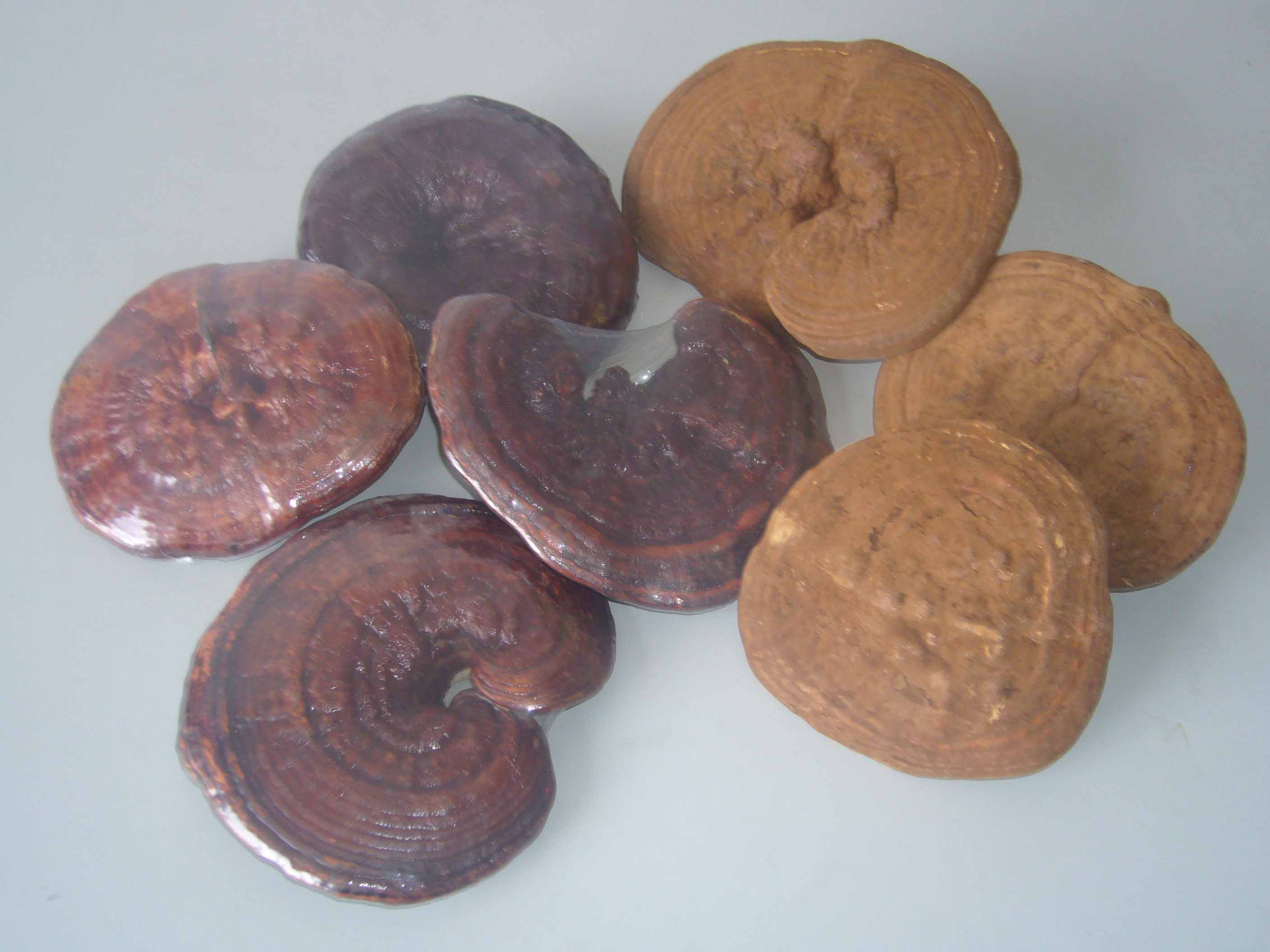 Put the mouse on above image to view full picture
Product Description
Description:
Reishi(Lingzhi) is a polypore mushroom that is soft (when fresh), corky, and flat, with a conspicuous red-varnished, kidney-shaped cap and, depending on specimen age, white to dull brown pores underneath. It lacks gills on its underside and releases its spores through fine pores, leading to its morphological classification as a polypore.
Varieties
Ganoderma lucidum generally occurs in two growth forms, one, found in North America, is sessile and rather large with only a small or no stalk, while the other is smaller and has a long, narrow stalk, and is found mainly in the tropics. However, many growth forms exist that are intermediate to the two types, or even exhibit very unusual morphologies,raising the possibility that they are separate species. Environmental conditions also play a substantial role in the different morphological characteristics lingzhi can exhibit. For example, elevated carbon dioxide levels result in stem elongation in lingzhi. Other forms show "antlers', without a cap and these may be affected by carbon dioxide levels as well.
According to Compendium of Materia Medica, lingzhi may be classified into six categories according to their shapes and colors, each of which is believed to nourish a different part of the body. (Red-heart, Purple-joints, Green-liver, White-lungs/skin, Yellow-spleen, Black-kidneys/brain).
Biochemistry
Ganoderic acid A, a compound isolated from Lingzhi.
Ganoderma lucidum produces a group of triterpenes, called ganoderic acids, which have a molecular structure similar to steroid hormones. It also contains other compounds many of which are typically found in fungal materials including polysaccharides such as beta-glucan, coumarin,mannitol, and alkaloids.
Our factory manufacture and supply various kinds of dried mushroom,mushroom powder,mushroom extract and mushroom slices etc.
Reishi mushroom
Reishi granule
Reishi powder
Reishi slices
Reishi extract
Reishi polysaccharide
Reishi mycelium powder
Reishi spore powder
You may also be interested in the following product(s)

Company Name: Qingdao Dacon Trading Co., Ltd
Registered Address:No. 519, Workshop On 5/F, 1 Hancheng Rd., Free Trade Zone, Qingdao, Shandong, China (Mainland)
Legal Representative/CEO: Ms. Shuming Kang
Registration No.: 91370220747213098M

86-532-80865267
86-532-80865298
Mr. Weishun Yang
Tags